This page was last updated on: February 27, 2007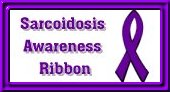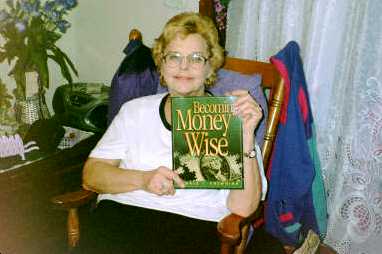 "PATSY"

MY NAME IS PATSY, I WAS DIAGNOSED WITH SARCOID LAST YEAR.

JUST WANTED TO GET TO KNOW SOME PEOPLE THAT I COULD TALK TO.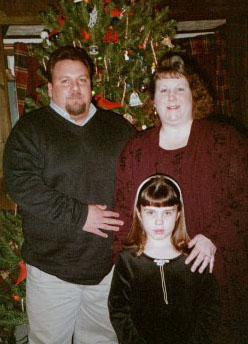 Hi! My name is Dawn Blunt and this is a photo of my family at Christmas. My husband is Louie and daughter is Jodie. I live on the eastern shore of Maryland where I am currently a homemaker.

I have suffered with symptoms related to Sarcoidosis since childhood but wasn't diagnosed until the late 90's from lung and lymph node biopsys. I have a very cronic case and suffer with so many of the usual and even unusual symptoms. I struggle with hypercalcemia, which nearly killed me in Sept. of 1990. I've been completely misdiagnosed for years and years, and have finally had to educate myself and my Dr.s.  

I am thankful to have found the Sarcoidosis Chat Room with so many people who understand what I am going through.   Although I have a great support system at home with my friends and family, I always feel guilty talking about how bad I feel. Sometimes I think my name should be Dawn "I don't feel good" Blunt!  Ha
If you'd like to chat with me through e-mail just send a note to: dkblunt@hotmail.com Hope you all stay well. Chat with you soon!
Dawn

"MTNS4LADY (Leslie)"

Hi this is me Leslie I'm a newcomer here, and I have sarcoid. Just diagnosed in the past 2 months. I'm 36 yrs old & I'm married with 5 children and live in New Hampshire. Hope I get to chat with you all soon :o)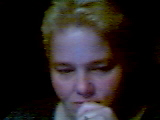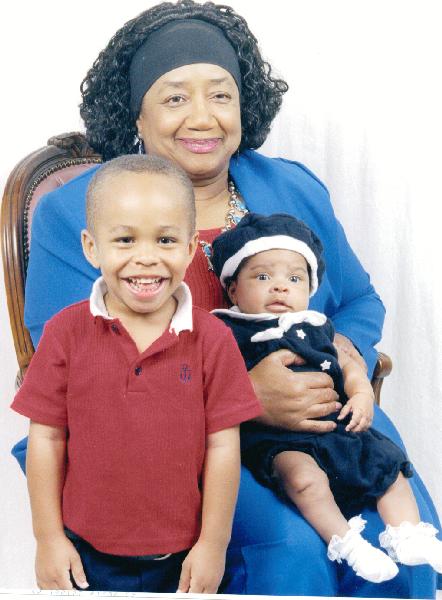 "Minnie"

Hello, I am a retired African-American female teacher of 61 living in Chattanooga, TN.  I was diagnosed in 1999 with sarcoidosis.  Pictured with me are A.J. and Mariah.  I am not getting very good medical care because there are not many doctors here with extensive knowledge of this cursed disease. I have in on my liver. My lymph nodes are now swelling. Is there anything that I can take for the swelling. I pray all the time to prevent the disease from spreading. I had some cut of my eye some years ago.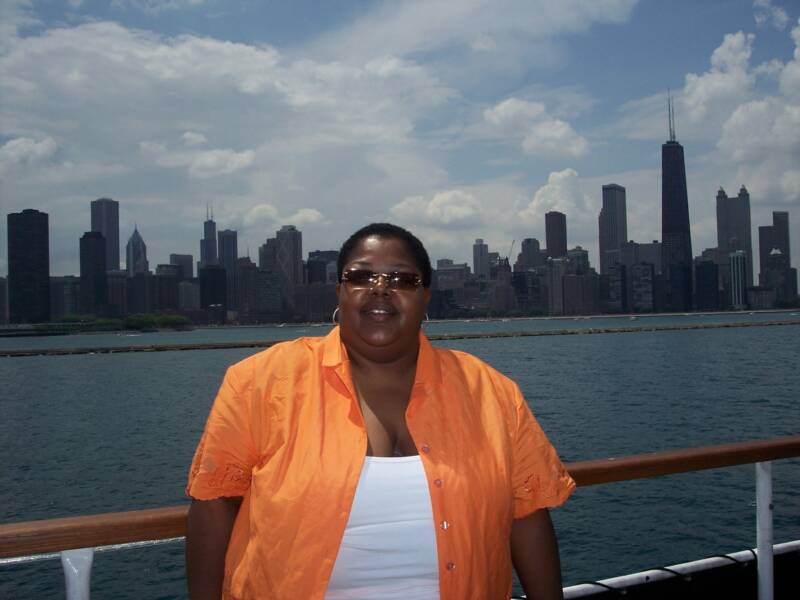 "Areatha"

This is ME on the city cruse Spirit of Chicago.  I had just stop taking prednesone, And I really felt awful that day.  I was told i had sarcoidosis Nov. of 2004, after taking an ex-ray at work (required phisical).  This sarcs is begining to affect my eye sight.  Last week I burst a blood vesal in my eye, it was terrible. I don't think I could bear to take prednesone again, there has to be a better way.  May God keep you, and give you peace.